We are delighted to announce that Moore Engineering, a Moore family company, has won the 2023 Engineering Drone Video of the Year Competition! This is hosted by Civil + Structural Engineer Magazine and you can find the spread on Moore Engineering in their July issue!
Civil+Structural Engineer Magazine celebrates the innovative ways drones and UAVs are transforming the AEC industry. This year, Cody faced tough competition with over 30 others submitting projects highlighting projects from all over the country.
Cody Rogness, Videographer and Media Specialist for Moore Holding Company is responsible for capturing the breathtaking aerial footage and bringing home the gold! Cody's winning video features two structures designed by Moore Engineering that are crucial for flood mitigation in Cass County, North Dakota: the Maple and Upper Maple River Dams. Cody's video beautifully captures water cascading over the spillways of the dams from a birdseye view.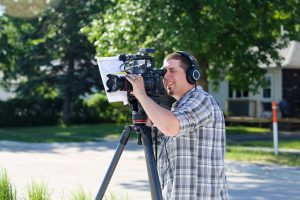 After 14 days of voting and over 10,000 votes cast, the results were it: Moore Engineering had won by a landslide. Cody's video received over 1,000 more votes than the runner-up, which was another Moore Engineering video, Lisbon Spring Flooding.
This award will join the two Emmys he received in his career. Cody has been working with Moore Holding Company since 2021, producing high-quality content for Moore Engineering and its related companies. He has a diverse background in TV news, TV shows, commercials, and documentaries, which he draws on to create engaging videos that showcase Moore's work and values.
Please join us in congratulating Cody Rogness and the rest of Moore Engineering on their well-earned achievement!